Asphalt Paving
---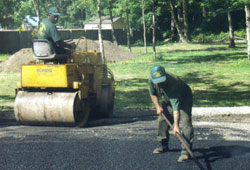 Whether it's a parking lot or a street, asphalt is the preferred choice for your paving needs. Asphalt is a flexible surface because it can be repaired through relayering if damaged, filled if it becomes cracked, sealed to extend the life of the asphalt, and likewise allows for easy snow removal during the winter months. These attributes also lower the total cost of ownership for anyone looking for a pavement solution when compared with concrete pavement, which is both more expensive up front and likewise cannot be easily repaired through relayering.
In situations where you need a parking lot or a drive paved, if you have it paved with hot-mix asphalt, and it is well maintained, it is possible for it to last up to 20 years or more.
H.A. Winchester can perform services to meet any of your asphalt needs including: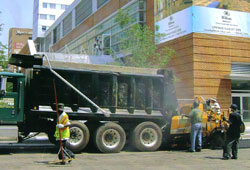 New Hot-Mix Asphalt Construction
Asphalt Resurfacing (Overlay/Relayering)
Asphalt Repairs
Hot Pour Crack Filling
Line Striping
H.A. Winchester is a trusted source for hot-mix asphalt paving having paved streets and parking lots for Government and Military agencies, Commercial Properties, Churches, Schools, Hotels, Shopping Centers, Industrial Sites, and more.
Contact us today for your projects needs and let us pave your way.